Business IT Support - Townsend, Massachusetts
Pixelated Tech: Your Trusted IT Support in Townsend, MA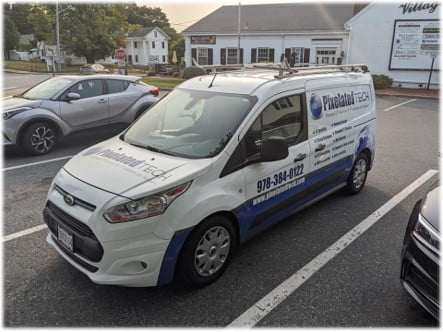 Are you in search of reliable IT support services in Townsend, MA? Look no further! Pixelated Tech is here to be your trusted partner in all things technology. With our experienced team of IT experts, we provide top-notch support for businesses and individuals alike. Whether you're facing technical challenges, need proactive IT management, or want to streamline your technology infrastructure, we've got you covered.
Why Choose Pixelated Tech for IT Support in Townsend, MA?
Local Expertise: We are proud to be a part of the Townsend community, and our local knowledge means we understand the unique needs of businesses in this area.
Experienced Professionals: Our team consists of seasoned IT professionals with a proven track record of delivering exceptional support and solutions.
Tailored Solutions: We don't believe in one-size-fits-all solutions. We take the time to understand your specific needs and craft custom IT solutions that align with your goals.
24/7 Support: Technical issues can arise at any time. That's why we offer round-the-clock support to ensure your technology runs smoothly day and night.
Cutting-Edge Technology: We stay up-to-date with the latest technological advancements to provide you with the most efficient and secure IT solutions available.
Our IT Support Services in Townsend, MA
Managed IT Services: Let us handle your IT infrastructure, from monitoring to maintenance, so you can focus on growing your business.
Network Security: Protect your business from cyber threats with our comprehensive security solutions.
Data Backup and Recovery: Ensure your critical data is safe and easily recoverable in case of emergencies.
Cloud Solutions: Embrace the power of the cloud with our scalable and cost-effective cloud services.
IT Consultation: Get expert advice on how to optimize your technology to achieve your business objectives.
Hardware and Software Support: We provide assistance with hardware and software issues, ensuring your technology runs smoothly.
Contact Us Today for Exceptional IT Support in Townsend, MA
At Pixelated Tech, we are committed to helping businesses and individuals harness the full potential of their technology. Whether you're facing IT challenges or want to proactively improve your technology infrastructure, we're here to assist you every step of the way.
Contact us today to schedule a consultation and discover how our Business IT support services in Townsend, MA, can elevate your technology experience. Join the growing list of satisfied clients who trust Pixelated Tech for all their IT needs.